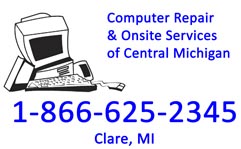 So you need a new computer but want to save some money? You want a good used computer! If you live near Clare, Michigan, it is worth your time to check out our prices on used computers. We are always getting a new stock of used computers so stop back often or give us a call.
Check out our prices on used computers!
New images coming soon! Several used PC's and laptops in stock!
$0.00
Hard Drive
GHz Processor
Windows 7
GB Ram
DVD/RW Drives
CD/RW Drives
10/100 Ethernet / USB 2.0
I
We accept: Visa / MasterCard / American Express / Discover / PayPal

We would value any comments you would have for us. Please find us on facebook and tell us what you think!